Here, in no particular order, are the Top fragrances for women,
Top Three for men and numero uno universal fragrance formulated for both men and women to wear:
Top fragrances for women
Miss Boucheron -- Sophisticated and elegant, this eau de parfum by the famed French jewelry house is as much jewelry and vanity curio as it is lush aromatic veil. Perfectly measured doses of bergamot, pink peppercorn, pomegranate and violet are complemented with white suede, Bulgarian rose, Virginia cedar and musk for a captivating aroma.
L de Lolita Lempicka --
An elegant melange of bergamot, bitter orange, cinnamon bark and everlasting flower with a seductive drydown enhanced by base notes of musks, sandalwood, tonka bean and vanilla extract.
Covet Sarah Jessica Parker -- The actress-cum-fashion designer is the first celeb to land two scents on our year-end favorites lists, with only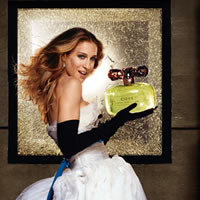 three other entertainers ever making the cut (Elizabeth Taylor's Gardenia in 2003, Spirit Antonio Banderas for men in 2004 and Live by Jennifer Lopez in 2005). Parker's debut fragrance, Lovely Sarah Jessica Parker, scored a spot in the women's top 10 in 2005. Covet is different but even more alluring, a fresh and intriguing marriage of wet grass, Sicilian lemon, lavender, chocolate, honeysuckle and vetiver on a bed of musk and woods.
Prada Infusion d'Iris --
One of those rare, eagerly anticipated fragrances that generated pre-purchases and waiting lists. And its launch was worth the anticipation. This captivating eau de parfum beckons with an irresistibly ethereal blend of orange blossom, mandarin, iris, incense, vetiver and cedar
Coach -- The luxury goods brand launches its first scent, a delighful fruit-tinged floral. Tart green mandarin, guava, orange flower, giant water lily and violet petals blend with honey, mimosa, jasmine, sandalwood and amberwood for a pleasing scent that makes a woman unforgettable long after her departure.

Top three for men
Tokyo by Kenzo -- An eau de toilette for the lively, energetic man who knows where he's going and wants to enjoy the journey. Lemon, grapefruit, green tea and pink pepper balance deeper notes of ginger, cardamom and sap; $50 and $65 at Sephora.
Narciso Rodriguez for Him -- One of those rare men's scents that's distinctive and flat-out handsome. With elements of Egyptian musk, lavender, amber and patchouli, the eau de toilette is for the guy who's thoughtful but not brooding, and introspective without being egocentric; $54 and $72 at Saks.
Tom Ford for Men -- A scent that proves that it's possible to be both sexy and dignified. Mr. Ford, arguably the most influential man in terms of the direction of American fashion today, continues his successful foray into fragrance with this subtly hypnotic blend of Indian cypriol, lemon leaf oil, citrus, basil, ginger, black pepper, tobacco leaf, amber, vetiver and woods. The eau de toilette is $60 and $85 at Saks.
Best Universal
Virgin Island Water by Creed -- You don't even have to close your eyes to feel immediately transported to a tropical paradise. All it takes is a single whiff of this millesime inspired by Olivier Creed's sailing adventure in the Sir Francis Drake Channel near Ginger Island last year with his son Erwin Creed and two royal guests. Using the company's rare infusion method that dates back 247 years, the Creeds fused elements of coconut, lime, ginger, sugarcane and white rum with hints of exotic florals, mandarin orange and musk. The result is an unforgettable scent that wears equally well on men and women. It's $98 to $285 at Schiller's Pharmacy and Toadflax in Shadyside and at Saks. A portion of proceeds of U.S. sales benefits the nonprofit Natural Resources Defense Council.